Take Quick Steps with
Coronavirus ​Hand-Washing Signs
During our nation's pandemic, you want to get your safety message out as quickly and conveniently as possible. Easy-to-assemble S.N.A.P. hand-washing signs, with free downloadable sign images, are smart and simple, or – as we like to say – a SNAP! Keep your important hand-washing message visible, in bathrooms, commercial kitchens or wherever the need to wash hands is greatest. Do it yourself with SNAP signs…the fast, economical way to instruct ​and inform.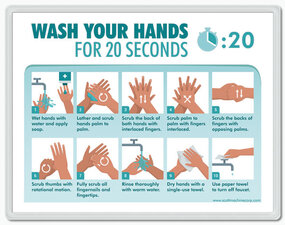 Frame Your Call-to-Action
with ​SNAP Signs
Now, more than ever, it's important to make your words – and images – count. A colorful 8½" x 11" changeable SNAP sign promoting proper hand washing, and set in a sturdy plastic SNAP frame, helps every instruction to stand out. Whether a coronavirus is hanging around, or it's just a normal day at your place of business, practice good hygiene with these attractive ​DIY reminders.

Clear Plastic ​Frame $20.70

Here's a printable version of our Wash Your Hands sign. Use it as a reminder at work and at home. And send copies to friends for ​their use.
Do your part to keep employees and customers safe from germs and viruses, with affordable SNAP signs that you can make by yourself. Pair your signs with our attractive, easy-to-clean frames and handy attachments, for a message that resonates as ​it educates.