Changeable insert signs let you switch
without ​a hitch
Conserve time and money with printable panels that you can change and replace on-the-spot, for instant signage when you want it! The Scott SNAP system is designed so that "changeable" is Simply Never A Problem, with great support materials like low-cost paper inserts, durable plastic frames, an array of attachments and more. Get started today with changeable professional signage at just a fraction of the cost of ​custom design!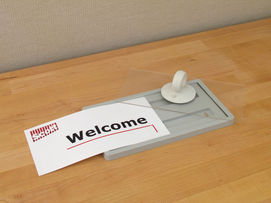 To make a
window ​insert sign
...Use our handy suction cup to remove the clear "window", print your paper panel, then snap the window back in place. Set in a handsome Scott® Snap® frame, change like this is ​always welcome!

Ckick any image for a ​closer view.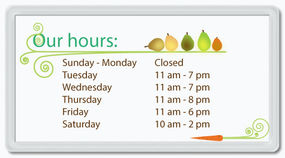 Changeable insert signs
for ​changing times
You're always on schedule with changeable insert signs that can be modified to accommodate a certain day or event, or last a year or more. Simply remove the clear lens, print a different insert and slide it into place. Your new SNAP® sign is up to the minute, up to ​the task!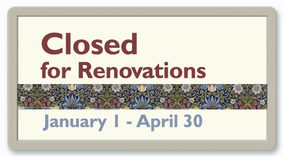 Let a SNAP sign
reconstruct ​any message
Avoid delays and hassles when you make your own customizable signage right at your desk. Now you can create fresh new messaging that changes right along with ​your exhibits.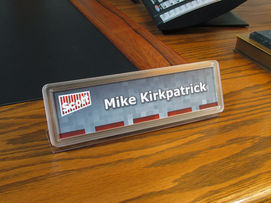 Simplicity is the name
of ​the game
You can make your own changeable insert signs to use as stylish desk nameplates for contemporary business settings. The clear, textured frame snaps shut instantly, keeping your good name intact and providing an attractive, ​professional border.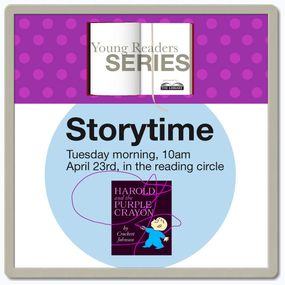 For a story with
a ​happy ending...
Utilize our changeable insert sign process whenever there's a new chapter in your signage program. For instance, if you book a speaker or schedule an event, you can display the news in just minutes. No worries about crayons or fingerprints, either, because the sturdy, removable plastic lens wipes clean with a ​soft cloth.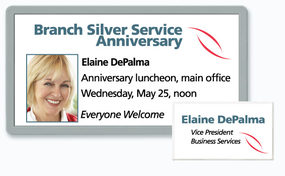 Congratulate and Celebrate
Employee achievements deserve notice, and now you can recognize an important milestone whenever it happens. Include a photo to personalize these changeable insert signs and print a SNAP® name tag too. And nobody appreciates longevity more than our Scott Machine team, having happily served the sign-making community for ​53 years.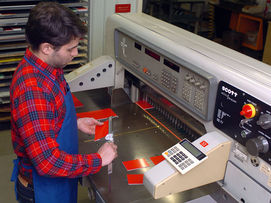 We'll measure up
to ​your expectations
Little details are a big deal to our customer support staff at Scott Machine. Whether it's checking the dimensions of a panel of plastic or simply giving you friendly, knowledgeable advice, we believe a true measure of good service is great value. Call us at 607-865-6511 and let us prove our value ​to you!
We'll be happy to explain how you can conveniently make your own changeable insert signs right at your desk, whenever you need them! Thanks to economical Scott SNAP supplies and stylish multi-colored frames, you can customize your SNAP sign to fit any occasion, any message. And if you have to make a change at a moment's notice, that's all the time you ​really need!