Invest in great signage with customizable
credit ​union signs
Greet your member customers with these engaging credit union lobby signs. Then continue to create a personal introduction with do-it-yourself teller name tags and credit union office desk plates that deposit goodwill day ​after day.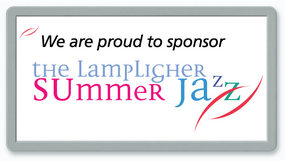 Credit Union signs
for ​all seasons
These do-it-yourself changeable signs keep your message timely ​and new.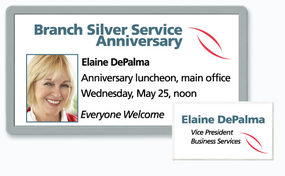 Embrace ​Employee Achievements
Recognize your staff's hard work with customizable credit union signs like custom desk plates and matching printable ​name badges.

For
introductions ​that impress...
Use the added polish of lustrous gold and silver name badges. And best of all, you can make your own in ​a flash.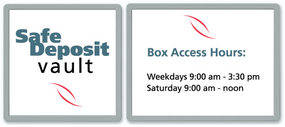 Lock in a low
cost ​for signage
When it's time to update your sign message, re-purpose the frame and change only the words of your credit union counter signs and wall signs...which you can ​print yourself!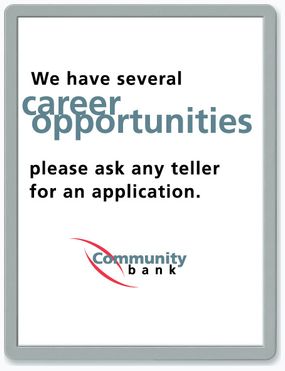 For ​every opportunity...
There's a choice of options to alert your clients with informative, economical countertop ​teller signs.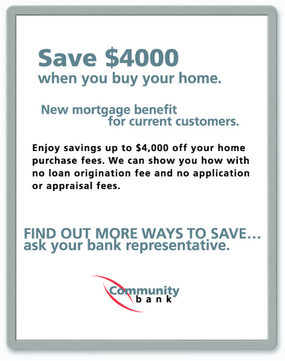 Create your own changeable credit union counter signs to announce your service or promotion of ​the day.

Create
introductions ​that last
Accent each desk with a distinctive custom name plate that you can make in ​an instant.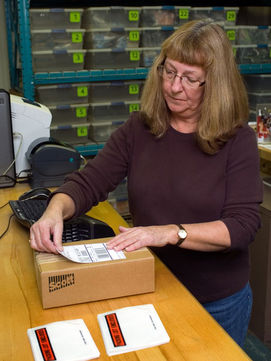 Call for free samples...we'll
mail ​them today.
Like to wear a sample badge or place a SNAP sign on the wall for your staff to review? A sample sent by Priority Mail can usually be on your shirt or desk in two days.
We're proud of what we make here at Scott Machine. Just call us at 607-865-6511, weekdays from 8:30am-5:00pm, and let us show ​you why.
Mix-&-match the many different sizes of our changeable SNAP credit union counter signs to create your own style to go with ​your message.

Our large 8 1/2" x 11" printable credit union signs handle standard letterhead, making it easy to create industry ​regulatory signs.