Printable name badges
with ​recognizable quality
Create your own printable name badges in just a few easy steps, as a way to introduce yourself and welcome others. Do-it-yourself name badges give good names the recognition ​they deserve.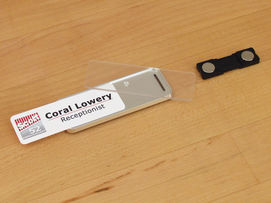 Printable badge
panels ​quickly impress...
Just snap them into these 1"x3" silver name badge frames. Time for a change? Just ​snap apart.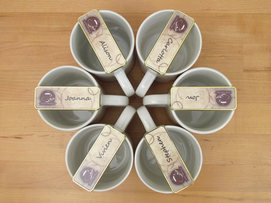 Fresh-Brewed Badges
Skip the usual name badge grind. Just print it, snap it together...and wear it for a ​real eye-opener!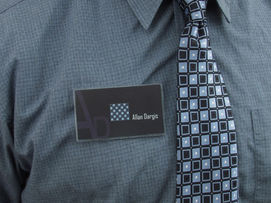 Namebadges That
Really ​Mean Business
Snap your business card into one of our clear plastic name badge frames, and attach your printable badge with a fabric-friendly magnet to create your ​own namebadges.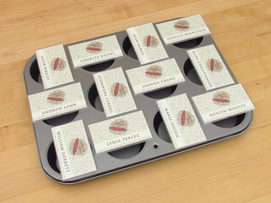 Add Great Badges
to ​the Mix
For zesty custom name badges and nametags printed up in seconds, just add your logo, then blend it with your corporate colors and a pinch ​of ingenuity.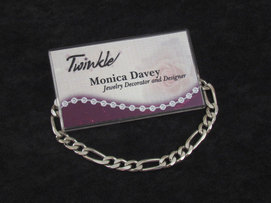 Give your
greeting ​real style
Printable namebadges for your staff provide that extra touch to turn visitors ​into customers.

Name bars
that ​are well-suited...
and easily changeable, in lustrous gold and silver frames. These custom name badges and nametags highlight your greeting, while they accent ​your attire.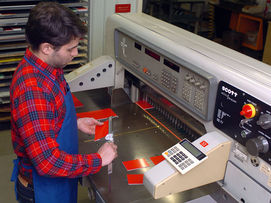 We'll measure up
to ​your expectations
Little details are a big deal to our customer support staff at Scott Machine. Whether it's checking the dimensions of a panel of plastic or simply giving you friendly, knowledgeable advice, we believe a true measure of good service is great value. Call us at 607-865-6511 and let us prove our value ​to you!
SNAP printable name badges make every introduction pleasantly memorable, nicely complementing any business situation or social event. Use these changeable badges and name bars again and again...they're new and fresh ​every time!

Prefer that we make custom namebadges and nametags for you, and ship them the next day? Well, consider it ​done...here's how:
www.e-BadgeDesign.com